Product Liability
The Company's products are food and beverages, therefore health and safety of consumers are the main priority.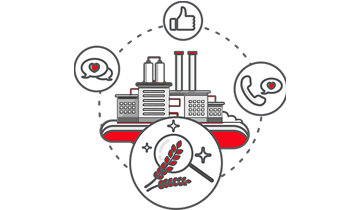 The Company's products are food and beverages, therefore health and safety of consumers are the main priority. The Company's product liability starts since raw materials have just arrived and have not been received by the personnel of the Company's raw materials storage/warehouse by doing tests on the raw materials that will be received. After the test result has ensured that the raw materials to be accepted are already in accordance with the specified requirements, then the materials are received and stored in the warehouse of raw materials.
During production process, a team of quality inspectors periodically conducts laboratory tests to ensure that the products are manufactured in accordance with the stipulations and of the required quality.
It is mandatory for the employees to give priority to customer satisfaction. To that end, the Company continues to practice 5 R ("Ringkas" (Compact), "Rapih" (Neat), "Resik" (Clean), "Rawat" (Maintained), "Rajin" (Diligent), carry out good processed food prouduction method in accordance with certification given by the National Agency of Drug and Food of the Republic of Indonesia so that the products manufactured by the Company are certainly halal (certified Majelis Ulama Indonesia and Malaysia) and also implement ISO 22000-2005.
Information on goods and/or services
Information concerning the goods manufactured by the Company has been listed in the "Business Activities and Types of Products Manufactured".
Facility, Total and handling of Consumer Complaints.
The facility used by the Company for consumer complaints is through email where in every package of products sold, the Company always stated the address for consumer complaints, namely:consumer@mayora.co.id.
During 2017, the Company received 128 complaints, 126 of which are related to fraud attempts by making fake prize coupons or called for working interview. Two other complaints are related to products.
In handling the complaints, we have reported the fraud attempts to the authorities. While complaints related to products are already handled by making a visit to the parties filing the complaints to conduct further research on the object of complaints and then give an explanation to the complainant.